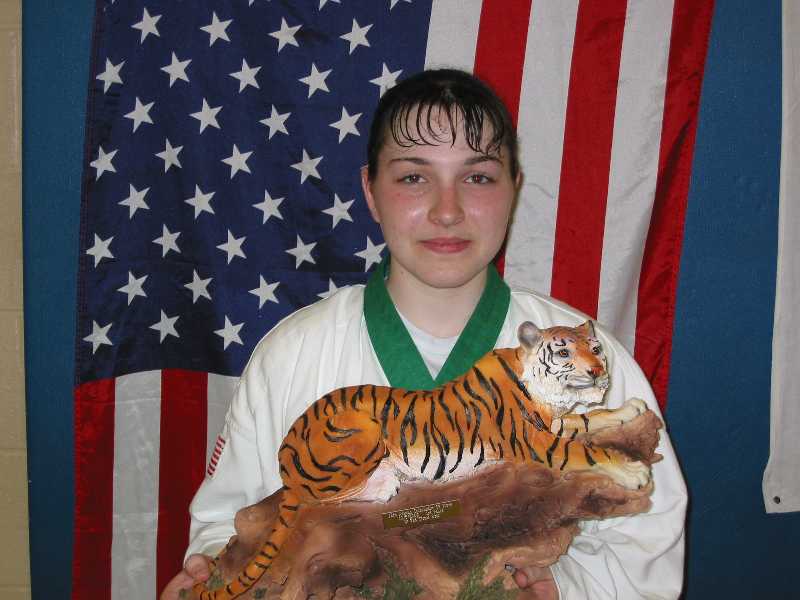 On October 5, 2002, Rochelle Fowler went to "In The Tigers Eyes, 12th Annual Tournament of Youth", a karate tournament open to all sytles of martial arts.
The participants were between the ages of 3 and 17, and the ranks were from white belt to black belt.
There was a good turn out for the Saturday tournament, with a rough estimate of over 100 participants and 200 spectators.
The events included: forms, weapons forms, and full contact point sparring.
Fowler participated in forms and sparring, doing the form Pyung Ahn E Dan and achieving first place in forms and second place in sparring.
Fowler stated, "I couldn't have done it without my instructors helping me to prepare. I have to thank them for their help and support, and to thank God for helping me and giving me the strength and courage to do my best."
Fowler is currently a green belt and takes traditional Tang Soo Do Karate at Sapulpa Darate Academy under instructors Mark Teague, and Ralph Faulkenberry, 3rd degree black belts, and Joel Pence, a 2nd degree black belt. If you would like more information about Sapulpa Karate Academy, call: (918) 224-4341 or visit their web site at:
sapulpakarate.com